The official launch is scheduled for the 29th of July 2011. We think you'll be pleased with the rich features and simplicity of operation that have been built into these solutions. For the first time, a management console has built expressly f
more...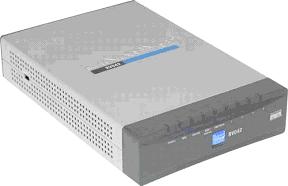 Description
Cisco RV042 Dual WAN VPN Router


Secure Remote Access at the Heart of the Small Business Network


Highlights
● Dual WAN connections for load balancing and connection redundancy
● Built-in 4-port 10/100 Ethernet switch
● Full IPsec VPN capabilities for up to 50 remote connections
● Advanced stateful packet inspection firewall helps keep your network safe
The Cisco RV042 also features a built-in 4-port full-duplex 10/100 Ethernet switch to connect four
PCs directly, or you can connect more hubs and switches to create as big a network as you need.
T
h
e

VPN

capabili

ty

c

r

ea

t

e

s

enc

r

y

p

t

e

d

"t

unnels

"

t

h

r

oug

h

t

h

e

I

n

t

e

r

ne

t,

base

d

o

n

IP S

ecu

r

i

ty

(IP

sec

)
or Point-to-Point Tunneling Protocol (PPTP), allowing up to 50 remote offices or traveling users to securely connect into your office network from offsite. Users connecting through a VPN tunnel are attached to your company's network -- with secure access to files, email, and your intranet -- just as if they were in the building. You can also use the VPN capability to allow users on your small office network to securely connect to a corporate network.
The Cisco RV042 can serve as a Dynamic Host Configuration Protocol (DHCP) server and has a powerful stateful packet inspection (SPI) firewall to protect your PCs against intruders and most known Internet attacks. It also supports the Trend Micro ProtectLink Gateway Security Service, which enables you to dynamically block unwanted or unsafe URLs and emails. Configuration is a snap with the web browser-based configuration utility.
As the heart of your small office network, the connection-redundant Cisco RV042 Dual WAN VPN Router gives you the connection reliability your business needs.
Features
● SPI firewall for maximum security
● Two WAN ports for load-balanced connectivity to the Internet
● 4-port 10/100 switch supports automatic medium dependent interface (MDI) and MDI
crossover (MDI-X) and up to 200 Mbps of throughput per port
● Dynamic URL and email scanning through the Trend Micro ProtectLink Gateway Security
Service (optional)
● Full IPsec VPN capability using Data Encryption Standard (DES), Triple DES (3DES), and
Advanced Encryption Standard (AES) encryption algorithms
Support for MD5 and SHA authentication algorithms
Allows up to 50 simultaneous IPsec and 5 PPTP VPN tunnels
Management via web, Simple Network Management Protocol (SNMP), and setup wizards for easy setup by administrators
Bandwidth management capabilities for improved quality of service (QoS)
Supports up to 50 QuickVPN users