The official launch is scheduled for the 29th of July 2011. We think you'll be pleased with the rich features and simplicity of operation that have been built into these solutions. For the first time, a management console has built expressly f
more...
Anti Virus :: VirusBarrier X6 More than just an antivirus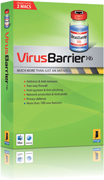 Description
Dual Protection Software for Mac OS X and Windows

VirusBarrier X6 Dual Protection

Contains VirusBarrier X6 and BitDefender Antivirus
New features of VirusBarrier X6
VirusBarrier X6 adds a number of new features that provide hardened security and help protect against the latest threats:
Two-way firewall
VirusBarrier X6 now includes a powerful two-way firewall, extending the program's protection beyond detecting and eradicating malware. This firewall offers preset configurations, for most users, and customizable, rule-based settings for advanced users, to protect Macs from dangerous network traffic.
Antivandal and web threat protection
VirusBarrier X6 protects users from intrusions, attacks and booby-trapped web pages. A full range of features is included to protect against the many new types of threats facing Internet users.
Dynamic Code Monitoring
Intego's new technology detects suspicious actions carried out by applications that may be malicious, and detects malware by examining its code as it acts in real time.
Phishing protection
Mac users are protected from phishing web sites that try to trick them into entering personal information, such as a credit card number or a password, on a site that looks exactly like a valid web site.
New types of malware detected
VirusBarrier X6 detects a wide range of new types of malware, such as scareware (software that tries to trick users into thinking their Mac is infected, in order to get them to pay for software), spyware (including commercial software used as keyloggers or monitoring tools), hacking tools, dialers (software that initiates phone calls to premium-rate phone numbers), proof-of-concept malware (software designed to show how to exploit a vulnerability, which is not circulating "in the wild"), and more.
Fine-tuned scanning and security policies
Choose from a number of detailed options to determine exactly what is scanned and when, and the type of threats that VirusBarrier X6 scans for. There are also basic settings for users who don't need such detailed options.
Performance control
Users can choose a level of CPU time to be allocated to background scans, in order to optimize CPU and disk priorities for malware scans.
64-bit software
All of Intego's software is now provided with 64-bit code, fully compatible with Snow Leopard, and ready for the future.
Other features of VirusBarrier X6
Antivirus features:
Detects and eliminates all known Mac viruses and malware Scans files for Windows and Unix viruses
Protects against spyware and Trojan horses
Protects against adware, hacker tools, dialers, keyloggers and more
Repairs infected files
Real-time and on-demand virus scanning
Quarantine Zone to isolate infected files
Trusted Zone to disable Real-Time scanning on selected files or folders
Heuristic and behavioral analysis
Blocks virus execution
Detailed logging for scan analysis
Full logs can be saved and exported
Scans can be scheduled at multiple times
Scans can be run automatically when external volumes are mounted
Scans can run automatically after virus definition updates
Command-line control for remote scans
Scans compressed files and archives
Archive scanning can be activated by archive type
Scanning for Windows viruses can be deactivated
Scans for malware on the iPad, iPhone and the iPod touch
Suspicious file analysis by the Intego Virus Monitoring Center
Contextual menu for quick scans of files, folders or volumes
Turbo Mode technology for faster scans
Choice of alerts (voice, dialog or e-mail)
File analysis from the Dock
Runs in the background
Personal Firewall features:
Controls incoming and outgoing TCP/IP traffic and data
Protects against all kinds of intrusions
Protects against network attacks
Protects against ping floods, port scans, and more
Offers preset or customizable firewall rules
Simple and advanced firewall modes
Multiple customized firewall modes can be defined
Stop list and Trusted group store friendly and malicious IP addresses
Offers a choice of defense policies, with advanced options for intrusion protection
Individualized security policies for network attack prevention
Alerts inform users of attacks, and offer several options to react to them
Configurations can be set for specific network settings or locations
Networks can be defined by MAC address
Thorough list of TCP/UDP Ports
Full logs allow users to audit all network activity
Stores logs in the Apple system log facility
Offers individual cookie control
Blocks ad banners
Safeguards personal information
Hides browser and platform information
Network Monitoring features:
Shows network traffic activity with 12 control monitors
Includes standalone traffic monitor application and widget
Displays all network services active and their ports
Logs display real-time network activity with domain name resolution
Shows network addresses and MAC addresses
Detects available AirPort and WiFi networks
Includes Whois and Traceroute tools