The official launch is scheduled for the 29th of July 2011. We think you'll be pleased with the rich features and simplicity of operation that have been built into these solutions. For the first time, a management console has built expressly f
more...
Anti Virus :: Eset Business Security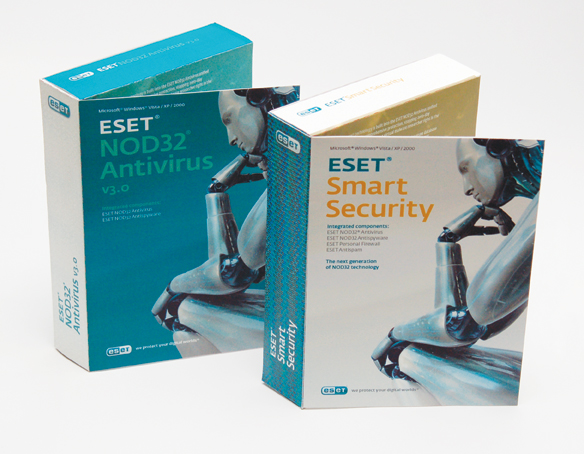 Description
ESET Smart Security Business Edition 4.0 protects you and your business Combining powerful management tools, ease of use for end users, and state-of-the-art proactive threat detection, ESET Smart Security is the most effective way to protect your business valuable data while improving your compliance posture. ESET Smart Security is the most comprehensive defense against web-based threats. It offers the same anti-malware protection as ESET NOD32 Antivirus along with a personal firewall and antispam, so you can proactively filter content and ensure effective, customized protection.
Protection from the Unknown — Its heuristics detect the least amount of false alarms in the industry, and finds malware other antivirus products miss.
Built for Speed — ESET Smart Security is lightning fast, so fast you won't even notice it's there. Even disk-intensive operations like performing a "full disk scan" run smoothly in the background while end users work. Easy on Your System — ESET Smart Security is "lean and mean," using just 48 MB of memory, a fraction of what other products consume. Because it's fast and "light," upgrading your existing Internet security to ESET Smart Security can literally be like buying a new computer. And laptop users can rejoice in the new automatic energy-sipping battery mode.
Easy on You — From its compact and intuitive user interface to its minimal use of alerts, self-training firewall, and other new features, ESET Smart Security is easier to use than ever before.
Version 4 Features :

Smarter Scanner — Threats don't always enter in ways you expect. ESET Smart Security inspects SSL-encrypted communication channels like HTTPS and POP3S, and intelligently scans compressed files to find threats that other products miss. ESET's Smart Optimization feature makes file scanning faster than ever.


Time-saving Firewall — The new Learning Mode saves time by automatically creating firewall rules by observing how you use your computer, while offering advanced firewall modes for power users.


Upgraded Antispam — ESET Smart Security now takes care of annoying spam with a smaller, faster, and even more effective spam filter.


Removable Media Security — Threats can enter your PC from removable media such as USB thumb drives. For self-running media, ESET Smart Security scans autorun.inf and associated files on mount, in addition to scanning any file on any removable device when it is accessed, or during a full-scan of the media. Power users can adjust ESET Smart Security to perform additional levels of scanning on removable media.


System Tools — ESET SysInspector and ESET SysRescue simplify diagnosis and cleaning of infected systems by allowing deep scans of system processes to find hidden threats, and creating bootable rescue CD/DVD or USB drives to help you repair an infected computer.


Self Defense — ESET Smart Security has built-in technology to prevent malicious software from corrupting or disabling it, so you can rest assured your system is always protected.


Usability Improvements — ESET Smart Security has numerous speed, security and usability upgrades.

Additional Business Edition Benefits :

Supports Complex Compliance Requirements — ESET Smart Security adds critical features, such as external drive access control and scanning, Cisco Network Admission Control (NAC) compatibility, as well as enhanced logging and reporting functions to support your compliance initiatives.


Host-based Intrusion Prevention System — ESET delivers host-based intrusion protection through a combination of capabilities including self-defense, advanced heuristics, web access protection and protocol filtering. In particular, advanced heuristics stops potentially malicious code by analyzing their behavior and disabling them before they can do damage. ESET's self-defense prevents malware from disabling our software and weakening the security of the user's system.


Easy to Manage — ESET Remote Administrator provides a single management console to control an entire network from a single screen—supporting tens to thousands of computers. Installation, updates, alerts and other tasks are all easily managed from these intuitive screens. To effectively manage your networked systems, the updated console smooths Active Directory integration and simplifies policy creation. With support for Oracle, MySQL and MS-SQL databases, it also handles increasingly large deployments and runs significantly faster. ESET Smart Security can be configured with antispam and/or personal firewall disabled to ensure compatibility with existing network security solutions. Integrated SysInspector makes it easier for IT administrators to diagnose and resolve problems.
Usability Improvements — For administrators, version 4 offers:

License Manager with simplified tools to manage multiple licenses with different terms


Read-only access for Management Console which enables multiple administrators to share tasks without risk of overwriting configurations


Notification Manager to keep administrators informed of all key events with customizable alerts


Full support of Cisco Network Admission Control (NAC) in support of compliance initiatives


More efficient use of network bandwidth and improved log storage scalability


Advanced Protection status screen that informs you of threat detections


Password protection that prevents ESET Smart Security from being uninstalled by unauthorized employees or visitors
System Requirements :
Processors supported: Intel or AMD x86/x64
Operating Systems: Microsoft Windows 7 (32- and 64-bit editions), Microsoft Windows Vista (32- and 64-bit editions), Microsoft Windows XP (32- and 64-bit editions), Microsoft Windows 2000, Microsoft Windows Server 2008 (32- and 64-bit editions), Microsoft Windows Server 2003 (32- and 64-bit editions), Microsoft Windows Server 2000 (32- and 64-bit editions)
Memory: 48 MB,
Disk Space (download): 32 MB
Disk Space (installation): 46 MB
anti virus , internet security , small business security , business security, corporate security, anti spam, firwall , two way firewall