The official launch is scheduled for the 29th of July 2011. We think you'll be pleased with the rich features and simplicity of operation that have been built into these solutions. For the first time, a management console has built expressly f
more...
Anti Virus :: Kaspersky Internet Secrity 2015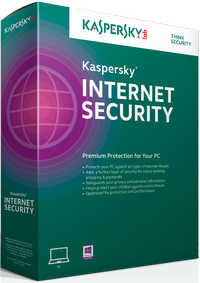 Support
Download Software for this product.
For Details Click Here
| | |
| --- | --- |
| Buy Direct from Vendor >> | |
Description
Protects your privacy, your money & your kids from Internet risks
As we all use the Internet more and more, cybercriminals are finding new ways to attack unsuspecting users – to steal money, personal information & identities. If you use the Internet regularly – for shopping, banking & socializing – your PC needs much more than just antivirus protection.
In 2013, AV-Comparatives – the independent testing lab – gave its 'Product of the Year' award to Kaspersky Internet Security 2014. The latest version of Kaspersky Internet Security builds on this success and delivers even more innovative technologies to protect your privacy, identity, money and children – without slowing down your PC. It adds extra security for online shopping & banking, prevents phishing attacks and makes it easy to protect your kids from inappropriate web content, sexual predators and other Internet-based threats. In addition, new Webcam Protection technology prevents criminals using your webcam to spy on you and your surroundings.
Kaspersky Internet Security includes all of the features provided by Kaspersky Anti-Virus… plus a vast range of additional security technologies.
Product Features
Protect yourself against the latest malware attacks
Every day, over 315,000 new items of malware are unleashed by cybercriminals. If you're going to protect your PC and your confidential information – you need a security solution that keeps up with the very latest threats.
Kaspersky Lab's award-winning security technologies are renowned for their ability to deal with new and emerging threats. Independent tests have shown that our cloud-assisted technologies help us to identify new threats within as little as 0.02 seconds. For real-time updates – and extremely rapid defense against new malware and other threats – Kaspersky Lab is your first choice.
Get security that won't compromise performance
While you need to ensure your PC – plus the precious information you store on it – are fully protected, it's no good having security software that ruins your PC's performance… so you can't enjoy your digital life to the fullest extent.
Despite the growing complexity of new malware attacks that are constantly being launched, Kaspersky Lab has developed security solutions that successfully combine protection & efficiency – so our technologies work 'behind the scenes' and your PC can perform exactly as it was designed to. In addition, our special Gamer Mode lets you enjoy an uninterrupted gaming experience – so you can totally lose yourself in the action.
Stop criminals spying on you via your webcam
Cybercriminals have been quick to recognize the opportunities to exploit people's growing use of webcams – and the media is full of reports about innocent users' webcams being accessed for a range of nefarious activities. How can you stop the spies?
Kaspersky Lab has developed totally new Webcam Protection technologies that prevent unauthorized users gaining remote access to your webcam. With our technologies protecting your PC, you no longer have to worry about whether someone has infected your computer and is using your webcam to spy on you and your surroundings.
Prevent theft of your money & financial information
Online banking, shopping and payment systems have helped to simplify a host of everyday tasks – but they've also introduced serious security risks, including the potential theft of your passwords, your account details and your cash.
Whenever you use your PC to visit a banking, shopping or payment website, Kaspersky Lab's unique Safe Money technology checks that the website is secure, ensures you're not being tricked by a fake or fraudulent website and then opens the site in a special, protected mode. Safe Money effectively adds another layer of security for your online financial transactions – to help keep your bank account & credit card numbers and your personal information out of the reach of cybercriminals.
Don't let the 'Identity-Thieves' take control
Imagine the chaos that can result if someone accesses your confidential information. If criminals capture your passwords and personal data, they can take on your 'digital identity', defraud you of money and cause a range of long-term problems.
Because even legitimate websites can be infected with malware – and automatically download malicious code onto your PC – Kaspersky Lab automatically checks all weblinks and makes sure they're safe… before you visit a website. Our technologies also scan your email messages – to ensure phishing campaigns can't trick you into disclosing any valuable personal information that could enable others to assume your identity or steal your money.
Ensure your kids can enjoy the Internet… in safety
Internet threats can be scary for security-minded adults – let alone innocent children that trust what they see and who they communicate with. However, as the Internet is also a powerful educational tool, you need to enable secure access for your kids.
Even when you can't be with your kids, our award-winning Parental Control features protect your children from a vast range of Internet-based threats – including sexual predators. Kaspersky Lab makes it easy for you to control how your children use the Internet, when they can go online and who they can communicate with. You can block downloads, block access to inappropriate website content, manage social networking activities and prevent your kids sending key personal information.
Stay safe & manage costs when you're out & about
When you use public Wi-Fi, it's easy for criminals to intercept your emails, passwords, credit card numbers and more. As well as taking care to protect your information, you also need to avoid excessive charges from Wi-Fi & 3G / 4G network operators.
Kaspersky Lab's new Wi-Fi Security Notification feature automatically verifies the security of the Wi-Fi connection you're using, checks for vulnerabilities, warns you about potential risks and advises you on adjusting your security settings. In addition, our new Cost-Aware Networking* feature automatically prevents you exceeding the data limit that you set – so you can easily manage and optimize your data traffic usage, whenever you're using your PC to access the Internet via public Wi-Fi, 3G or 4G.
*Cost-Aware Networking is only available for Windows® 8 or higher.