The official launch is scheduled for the 29th of July 2011. We think you'll be pleased with the rich features and simplicity of operation that have been built into these solutions. For the first time, a management console has built expressly f
more...
Anti Virus :: Kaspersky Endpoint Security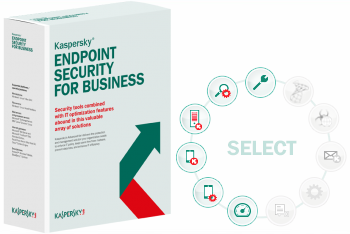 Description
KASPERSKY ENDPOINT SECURITY FOR BUSINESS -

SELECT
BENIFITS :-

Today, businesses need to implement security that protects their internal IT infrastructure and also extends outside traditional perimeters – so that mobile workers can access corporate systems and data without introducing new security risks. Kaspersky Endpoint Security for Business SELECT combines Kaspersky Lab's award-winning anti-malware technologies, plus file server security and easy-to-configure endpoint controls – all to protect your internal IT infrastructure – plus rigorous mobile security and MDM that enables secure access to your corporate systems.

Protecting your data and your business reputation :
By combining signature-based, proactive and cloud-assisted anti-malware technologies – plus Kaspersky's two-way firewall and special Network Attack Blocker features – Kaspersky Endpoint Security for Business SELECT delivers multi-layer protection against the latest threats..

Protecting shared storage :
The presence of just one infected file – on any of your servers – could adversely affect all computers on your network. That's why Kaspersky Endpoint Security for Business SELECT provides anti-malware protection for file servers running Microsoft Windows or Linux.
Adding more security when you need it :
Kaspersky also offers a range of Targeted Security Solutions that let you add further protection technologies. There are Targeted Security Solutions for storage, mail, Internet gateways, virtualisation and collaboration – plus a far-reaching systems management solution.



FEATURES

:-


Advanced Anti-malware for Workstation:
Multi-layer anti-malware:
Kaspersky Endpoint Security for Business SELECT delivers a combination of Kaspersky's latest signature-based anti-malware, heuristic-based protection and also cloud-assisted technologies. This powerful combination helps to ensure superior, real-time anti-malware protection for your business.
System Watcher:
Whenever an application launches on your network, Kaspersky's System Watcher feature analyses how the application behaves. When System Watcher detects any suspicious behaviour, the application will be blocked. If the suspicious behaviour has resulted in some malicious activity, it's easy to 'roll-back' your system to its previous state.
Blocking network attacks:
Network Attack Blocker technology detects and tracks suspicious activity on your corporate network – and then responds in accordance with preconfigured criteria.
Rigorous Anti- Malware for File Servers:-

Protecting multi-platform file server environments:
With its powerful antivirus engine, Kaspersky Endpoint Security for Business SELECT delivers world-class anti-malware protection for file servers running Windows, Linux or FreeBSD. In addition, Kaspersky's optimised scanning processes help to ensure there's no significant impact on the performance of your systems. The application protects terminal servers – Citrix or Microsoft – and also runs on cluster servers.

Improved manageability and reporting:
Kaspersky recognises that every minute spent on administration and reporting, is time you could be devoting to strategically important activities. That's why Kaspersky Endpoint Security for Business SELECT provides user-friendly management tools and clear reports – so you get easy, quick access to the controls and information that can help you to improve security.
Virtualisation support – for Windows-based file servers:
Kaspersky's file server security solution has achieved VMware Ready certification.
Secure containers for corporate data:
Bring Your Own Device (BYOD) initiatives can result in significant issues – including the problem of separating and securing corporate data on a device that also holds the user's personal information. Kaspersky Endpoint Security for Business SELECT includes Kaspersky's Containerisation technology. It's easy to set up a separate container – within the user's mobile device – so that corporate data is separated from the user's personal data. You can enforce additional security for the container – by enabling automatic encryption within the container and / or demanding additional user authorisation before an application is allowed to launch.
In the event of an employee leaving the company, it's easy to ensure sensitive corporate data is no longer stored on their personal mobile device. Kaspersky technology gives you remote access to the corporate container – so you can delete the container and all corporate data, without deleting the owner's personal data on the device.