The official launch is scheduled for the 29th of July 2011. We think you'll be pleased with the rich features and simplicity of operation that have been built into these solutions. For the first time, a management console has built expressly f
more...
Office Suite :: YOZO Office 2010 Professional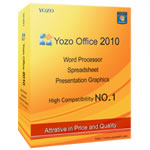 Description
Yozo Office 2010 professional
Yozo Office 2010, written in Java, is available on multiple operating systems, such as windows, Linux and so on. Yozo office 2010 is designed as an integrated program. It contains three applications, Worksheets, Text Documents and Presentations, which share one user interface and one file format, that is ".eio" format. It is designed with complete intellectual property right.
Run on multiple system
Yozo Office 2010 is available on both windows and linux operating systems.

Compatibility
Yozo office 2010 is accurately compatible with microsoft office. It is the best alternative office suite that is compatible with both binary (xls, doc, ppt etc.) and XML (xlsx, docx, pptx etc.) file formats with several value-added features.Yozo Office 2010 can open and edit Microsoft Word/Excel/PowerPoint 97/2000/XP/2003/2007/2010 files and save these files in ".eio" file format or in original file format.


Similar Look and Feel with Microsoft Office
Similar graphical user interface (GUI) , tool bars, dialog boxes and quick keys, which are all corresponding to a standard Microsoft Office graphical layout.


Flexible Documents Conversion
With Yozo office 2010, documents can be exported to Microsoft Office formats or exported to Adobe Portable Document Format (PDF) directly from desktop without the need of an additional document converter.


Innovative Integration
Yozo office 2010 can be seemed as a program that integrates text documents, worksheets and presentations together and share one user interface and one file format, that is ".eio" format. In this program, users can switch among text documents, worksheets and presentations seamlessly. Link data in three applications can be copied and pasted easily. When source data in worksheet is changed, data in the other two applications can be updated automatically.


Convenient Science Editor
Powerful mathematical formula editor and scientific experiment outcome analysis. Analytical tools and diagrams include biology, chemistry, physics, mathematics, geology, graphics, flowcharts, languages and customization options.


Store all Documents in a Single Binder
File extension supports worksheet, text document and presentation data, allowing multiple document types to be stored and displayed in a single file.


Paste Link Feature
Worksheet, Text document and Presentation data contained in the same or different binders, can be inserted in other documents and updated in real time. Changes on formats or contents of a table, cell, heading or slide, automatically update in all linked worksheets, text documents and presentations.




Read Some More Details :
Click Here
Before You Buy , Get
yourself
convinced on it Amazing Perfomance of Data Access and Conversion :
TRY NOW : WINDOW VERSION :
CLICK HERE


TRY NOW : LINUX VERSION:
CLICK HERE