The official launch is scheduled for the 29th of July 2011. We think you'll be pleased with the rich features and simplicity of operation that have been built into these solutions. For the first time, a management console has built expressly f
more...
Wireless Gateway :: Cisco SA 500 Series Security Appliances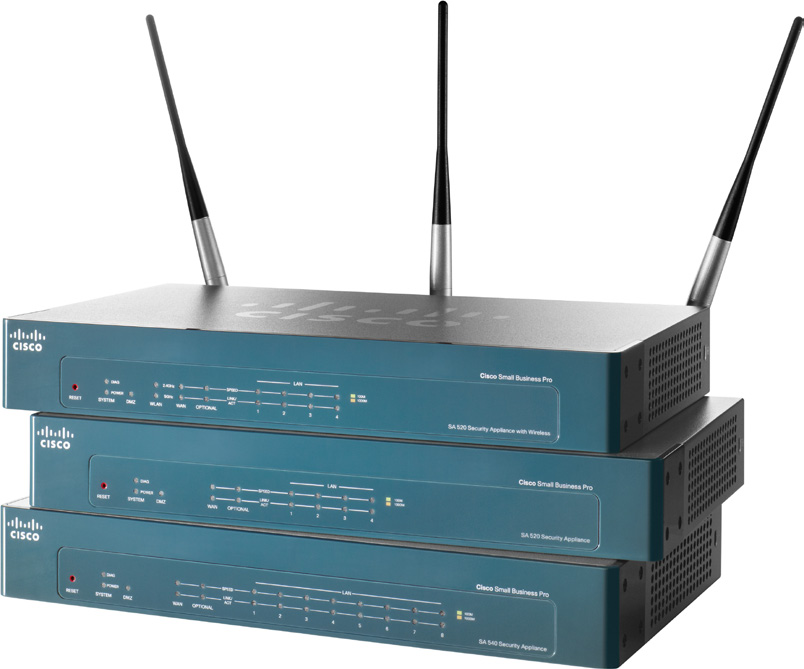 Description
Product Description
Cisco® SA 500 Series Security Appliances, part of the Cisco Small Business Pro Series, are all-in-one security solutions for small businesses. Combining highly secure Internet, wireless, site-to-site, and remote access connectivity with firewall and optional IPS, email and content security capabilities, the Cisco SA 500 Series (Figure 1) gives small businesses the confidence of knowing that they are protected.


Built-in stateful packet inspection firewall and IPS provide business-grade protection from unwanted visitors, unwanted traffic, and malicious attacks. Unsecured network edge (DMZ) safely hosts file, web, and other Internet-accessible servers without exposing the business's internal LAN network to threats.

Cloud-based Cisco ProtectLink Gateway (email and web protection) and Cisco ProtectLink Web (web protection) provides full-strength, up-to-date protection at full speed. Powered by
Trend Micro, all processing happens in the cloud,eliminating the use of Internet bandwidth and internal network and server resources.

Award-winning antivirus, antispyware, antispam, and antiphishing technology uses eight different inspection techniques to evaluate the sender's IP address and also to scan email content, using more than 3 million different virus patterns and more than
400,000 spyware patterns to optimize accuracy. Web and URL filtering blocks known malicious websites while limiting employee Internet usage to only appropriate or work-related websites.

Enforce company anti-virus policy with optional ProtectLink Endpoint security.

Built-in Virtual Private Network (VPN) capabilities support IP Security (IPsec) or Secure Sockets Layer (SSL) encrypted network traffic, providing remote connections for on-the-go users, branch
offices, and telecommuting employees. Use of SSL VPN offers easy implementation and management for optimal secure remote access flexibility.

Wireless connections are secured with high-encryption Wi-Fi Protected Access (WPA2) and support for 802.1X authentication (CiscoSA 520W model).

Gigabit Ethernet on all ports provides maximum network performance.VeriSign VIP service provides two-factor authentication and one-time-use password access with no additional authentication equipment.
Easy integration with other Cisco Small Business Pro Series products provides a network foundation for a complete data, voice, video, and wireless solution.

Built-in web-based configuration utility simplifies configuration and management, or the appliance can be launched from Cisco Configuration Assistant.