The official launch is scheduled for the 29th of July 2011. We think you'll be pleased with the rich features and simplicity of operation that have been built into these solutions. For the first time, a management console has built expressly f
more...
Addin :: Outlook plug-ins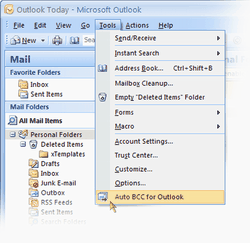 Description
Outlook plugins / Microsoft Outlook add-ins / add-ons
Plug-ins for Microsoft Outlook
For Microsoft Outlook 2010, Outlook 2007, Outlook 2003, XP (2002) and 2000.
Our time-saving Outlook plug-ins add new functionalities to Microsoft Outlook, automate some routine operations and make your work with Outlook easy and pleasant.
For ease and comfort of use:
Our Outlook addins have friendly user interfaces.
All plugins are easy to install; they are menu driven and very fast.
All Outlook plugins come with detailed instructions in the help files that are easily accessible from the opening dialogs.
CC / BCC for Outlook e-mails
This wonderful Outlook plugin automatically creates a BCC (blind carbon copy) or/and a CC (carbon copy) every time you send email. You can easily make a rule for filling the TO, CC, BCC and SUBJECT fields, automatically create a record of important emails, and exclude duplicates from the To, CC and the BCC fields.
More about BCC / CC in Outlook automatically
Silent BCC for Microsoft Outlook
Silent BCC for Outlook is an ideal tool for monitoring your company's outgoing e-mail. Once installed, the plug-in will deliver the BCC copies of all messages sent from all user accounts of a given PC to you. No actions on the sender's side are required, they may not even know about it! Silent BCC for Outlook is absolutely invisible in Outlook and everywhere else in the system, there is no user interface for the user to switch it off or alter your BCC settings.
More about Silent BCC for Outlook
Removing Outlook duplicates
With this advanced Outlook plugin you can easily eliminate duplicated emails in your Outlook folders. Duplicate Email Remover searches for and eliminates duplicate emails in one, several or all Outlook folders. The found duplicates can be marked, removed, copied or moved to any folder you choose.
More about Removing Outlook duplicated emails
Duplicates Remover for Outlook
This handy Outlook tool will help you to find and remove duplicates in contacts, notes, tasks, journal and calendar items (but not emails) in Outlook and MS Exchange Server folders. Once a duplicate is found you can mark it with a flag, delete, copy or move to any folder you choose.
More about Duplicate Remover for Outlook contacts, notes, tasks, etc.
Attachment Management in Outlook
This handy add-in for MS Outlook checks your outgoing email and reminds you to add an attachment to outgoing messages in case you forget to do it yourself. You just specify the words and phrases implying an attachment (e.g. see attachments, in attachment, the file attached etc.) that may be found in the body of your outgoing messages and add them to the Key words list.
More about Outlook Attachment Alarm