The official launch is scheduled for the 29th of July 2011. We think you'll be pleased with the rich features and simplicity of operation that have been built into these solutions. For the first time, a management console has built expressly f
more...
Wireless Gateway :: Cisco RV 120W Wireless-N VPN Firewall Introduction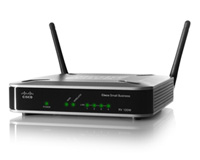 Description
Cisco VPN firewalls offer affordable, highly secure, business-class connectivity

Obtain highly secure connectivity to the Internet and from remote locations and workers with the Cisco RV 120W Wireless-N VPN Firewall. This cost-effective firewall combines highly secure connectivity with the following:
High-speed wireless access point
4-port switch
Intuitive, browser-based device manager
The combination of business-class features and top-quality user experience takes basic connectivity to a new level.
The Cisco RV 120W Wireless-N VPN Firewall also features:
Proven stateful packet inspection (SPI) firewall, plus advanced wireless security to help keep business assets safe
IP Security (IPsec) VPN support with hardware acceleration for highly secure, high-performance connections to remote sites
High-speed, standards-based 802.11n wireless connectivity to help employees stay productive while away from their desks
Support for separate "virtual" networks enables you to control access to sensitive information and to set up highly secure wireless guest access